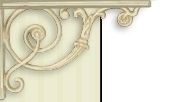 Various Miracles
1985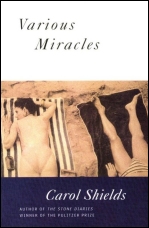 The stories collected here offer an entrancing, intriguing look at some of the various miracles of everyday life, the quirks of chance and coincidence, life's setbacks and improvisations. Carol Shields deftly draws us into the lives of a broad range of sharply observed characters, from the brilliant young violinist smothered by an overprotective family, to the elderly widow mowing her lawn while a long, passionate life buzzes around in her memory. These twenty-one miracles of the storyteller's art collection present Shields, blending wit and compassion, at her inimitable best.

Various Miracles is also available in Collected Stories.

Buy the Book
Click here to order.



Carol Shields is a brilliant writer. The stories mirror our lives in all the closest and most intimate ways and at the same time are entertaining - quite wickedly entertaining."

- Elizabeth Jolley

Excerpt
'BONJOUR,' SHE SANG

It's been mainly a happy marriage. . . . To her surprise, to everyone's surprise, she turned out to have an aptitude for monogamy. Nevertheless, many of the scenes that have come into her life have involved men. Once she was walking down a very ordinary French street on a hot day. A man, bare-chested, drinking Perrier at a cafe table, sang out, ''Bonjour.'' Not ''bonjour, Madame'' or ''bonjour, Mademoiselle,'' just ''Bonjour.'' Cheeky. . . . ''Bonjour,'' she sang back and gave a sassy little kick, which became the start of a kind of dance. The man at the table clapped his hands over his head to keep time as she went dancing by.

Once she went to the British Museum to finish a piece of research. There was a bomb alert just as she entered, and everyone's shopping bags and briefcases were confiscated and searched. It happened that Frances had just bought a teddy bear for the child of a friend. . . . The guard . . . carried it away to be X-rayed. Later he brought it to Frances. . . . As he handed her the bear, he kissed the air above its fuzzy head, and Frances felt her mouth go into the shape of a kiss, too. . . . There are people who think such scenes are ornaments suspended from lives that are otherwise busy and useful. Frances knows perfectly well that they are what a life is made of, one fitting against the next like English paving-stones. - From ''Various Miracles.''


These are stories to learn from - about the amazing power of language to recreate life on the page, and about life itself. Carol Shields is a marvelous writer - perceptive, witty, ironic and tender - whose poetic and analytical gifts make Various Miracles a dazzling collection."

- Isabel Huggan




With deft, luminous prose, Carol Shields creates a tangential world of real charm and mystery. The satisfying economy of these stories, the tender precision, unveil a unique enchanting talent."

- James Wilcox

Reviews
Twenty-one short stories, prose poems, and contemporary fables by Canadian Shields (Small Ceremonies, 1976) that elliptically, and successfully, suggest how mysterious ordinary life can be. Shields frequently takes the slightest of plots and digresses delicately until reaching a conclusion that, as often as not, is a poetic image rather than a resolution. The title story whimsically lists odd but ordinary miracles--four strangers on the same bus reading the same paperback (Smiley's People), for example--and then by poetic association makes its way to a Cuban-born novelist and becomes lightly metafictional. Likewise, "Mrs. Turner Cutting the Grass" moves from Mrs. Turner on her lawn to a poet who spies her vacationing loudly in Japan: he writes a very successful poem that is contemptuous of her, and the contrast between the poet's career and Mrs. Turner's unexceptional decency makes for an exquisite little dissertation--thoughtful, quiet, full of literary turns. The last story, "Others," is the book's best (and longest): Robert and Lila, on vacation, lend 50 pounds to Nigel in England, and forever after receive grateful Christmas cards (no return address) from him and his wife Jane. Robert and Lila contrast their ordinary lives--boredom, separation--at every turn with the lives imagined from the annual Christmas messages: the story is as powerful in its way as John Cheever's "The Enormous Radio." The rest here is charming but a little uneven, occasionally sketchy or too clever; even so, the pieces are almost always moving, full of poetic leaps and moments of happiness or faith, whether detailing instances from a woman's life or writing about the magic of dolls. A marvelous collection: little sound or fury, but lots of significance. - Kirkus Reviews







Carol Shields is a wonderful writer - wry, witty, wise and fiercely intelligent. Many of the stories in this collection are deliciously funny; all are memorable."

- Janette Turner Hospital


Carol Shields has a rare and engaging way of following through an image till she's made a story of it. In my favorite of her stories, Dolls, Dolls, Dolls, Dolls, the fiction forms by layers into a final effect of remarkable poignancy and unsentimental insight."

- Joan Silber

Accidents at the heart of life: Various Miracles
Jenny Uglow, The Independant

Canadian writer Carol Shields is best known here for her novel, The Stone Diaries, but this collection of stories shows her working equally well in miniature. For Shields, the isle is full of voices - a murmurous babble of half-forgotten memories, whispers, anecdotes, conversations half-heard or misunderstood. Truths are grasped in flickering glimpses beyond words, like patterns on the inner eye-lid before sleep. We come to feel like Hazel, in the opening story, who sees that her 'whole life is an accident, and by accident she has blundered into the heart of it'.

One story is, in fact, called 'Accidents', another 'Collision'. In the latter, set in a small state poised between Communist past and capitalist future, a man and woman leave a hotel. Both are purveyors of dreams: she a former film-star making a documentary on her country's glass industry for foreign investors; he a Canadian architect, designing a seaside resort. Both carry the baggage of self - lovers, ambitions, torn-up letters, painful remarks - but since neither can speak the other's language this all goes unsaid; they simply share an umbrella, smile, and part. Chance, and rain, make them touch.


| | |
| --- | --- |
| | In her hands we believe anything can happen." |