Thirteen Hands and Other Plays
2002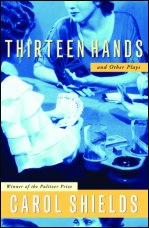 From one of Canada's most beloved authors comes a collection of four delightful plays, including the popular and highly acclaimed Thirteen Hands plus Anniversary, Departures and Arrivals and Fashion, Power, Guilt and the Charity of Families. The theatrical form allows Carol Shields' great strength as a master of dialogue to shine as she returns to themes she explores in her prose: love, family, friendship and the hidden meanings and larger truths uncovered beneath the surface of daily life. A treasure for those who work in the theatre or simply love going to it, as well as for those who appreciate Carol Shields fine writing, Thirteen Hands and Other Plays is an exhilarating introduction to her considerable talents as a playwright.


Buy the Book
Click here to order.



Preface by Carol Shields
Before becoming a playwright, I was a novelist, and one who was often impatient with the requisite description of weather or scenery or even with the business of moving people from room to room. I was more interested in the sound of people talking to each other, reacting to each other or leaving silences for others to fall into. Always while writing I felt a quickening of interest when a patch of dialogue was about to erupt in my novels. I noticed, too, that the books I loved to read were full of human speech.



Production Information
For those who may be interested in producing one of Carol Shields' plays at your theatre or school, please contact Great North Artists Management, Inc. regarding rights and reading scripts.

Literary Department
Great North Artists Management, Inc.
350 Dupont Street
Toronto, Ontario, Canada M5R 1V9
Contact: Rena Zimmerman
Telephone: 416-925-2051
Fax: 416-925-3904
Email: gnaminc@gnaminc.com



Thirteen Hands
In Thirteen Hands, Pulitzer Prize winner Carol Shields creates a voice for a whole generation of women overlooked. The women in Thirteen Hands welcome a once-a-week gathering at a bridge club as a time to momentarily suspend feelings of loneliness, isolation and fear, and begin to indulge, revel and celebrate the wonderful intimacy they form. An intimacy that gets passed on, like an exquisite heirloom, to a next generation of bridge players.

Carol Shields' dialogue blends a rich alchemy of gentle flowing interaction with a subtle avant-garde that turns the seemingly mundane into the extraordinary. This is storytelling that circles time and delivers memories. - Back cover of original print version

Thirteen Hands was originally commissioned by Agassiz Theatre and workshopped by the Manitoba Association of Playwrights. It was first produced at Prairie Theatre Exchange in Winnipeg and went on to be produced by professional theatres in Ottawa, Toronto, and Vancouver, to considerable box-office success, and has been produced by amateur theatre companies across the country.

Review
Excerpt from the Winnipeg Free Press review of the World Premiere of Thirteen Hands

Life unfolds at cards
By Kevin Prokosh, Theatre Writer

In Carol Shields's lovely new play, Thirteen Hands, four generations of "white glove ladies" kibbitz around the bridge table, dealing cards and sloughing off life's indignities.

No one keeps score in the Prairie Theatre Exchange production, but Shields must be congratulated for bringing home a cleverly played small slam, worthy of Goren himself. This thanks primarily to her trump card - that rare gift of making the mundane seem exceptional.





My mother belonged to a bridge club, as do the women in this play, and I remember being kept up by the sound of hysterical laughter, the acrid smell of cigarette smoke wafting up the stairs and that sickly sweet (but delicious) taste of bridge mix. However, I don't think you need to have had any experience with bridge to enjoy this work, since it is at heart a celebration of women and friendship. The story, which spans several generations, is told in a series of vignettes. Some of the most memorable are: four teens smoking up and discussing how different their lives will be from their mothers'; four near-strangers speaking cordially across the bridge table yet revealing their inner thoughts to the audience; and a poignant four-generation bridge game."

- Kate Watson, The Coast, Halifax





Anniversary
Anniversary, written with Dave Williamson, is a domestic comedy full of insight and revelation. Dianne and Tom, recently separated, get together to divide their assets on - of all days - their anniversary. Ben and Shirley, old friends they have not seen for several years and who don't know that Dianne and Tom have parted show up unexpectedly, as does Dianne's current boyfriend Garth. An earlier version of the play was produced entitled Not Another Anniversary.




A send-up of love and life and the destruction of furniture, Anniversary puts accepted notions about relationships to the test. A bit raunchy, a bit serious and wonderfully hilarious, it is sure to join Carol Shields' other plays as a classic."

- Editors, chapters.indigo.ca

Playwrights' Note
Anniversary is a fast-paced comedy built on a triple narrative irony. One couple in the play are married and pretending to be close to separation. Another couple, who are separated, are pretending to be married. The third and overriding irony is that the separated couple are still emotionally together, while the married couple have already emotionally separated.

Notwithstanding the comical nature of the piece, a number of serious questions are put before the audience: What does friendship mean and what are its obligations and loyalties? What does marriage involve, and can original marriage vows sustain renegotiation? When is a marriage or a friendship over? What is the nature of pretence and how damaging is it? And, finally, are we all, in some sense, pretenders?

Each of the five characters in the play behaves foolishly at times, but it is not the playwrights' intent to mock them or their enthusiasms. Tom's passion for the environment, Dianne's redemption through crafts and coffee, Ben's and Shirley's confusion over their private/public lives, Garth's attempt to mask his pain with irony - each of these characters deserves a presence on that narrow and difficult balancing beam of respect and humour.

Anniversary is particularly suitable for summer theatre and for dinner theatre. Its two acts can easily be rearranged into three acts, and a suggestion for this kind of alteration is made in the text.

It is taken for granted that geographical references will be changed to suit particular audiences. We like to think this play will bring pleasure, laughter, recognition and perhaps even a little reflection. - Carol Shields and Dave Williamson, from the original print version of Anniversary

Review
Winnipeg Free Press review of the premiere of the updated version of Anniversary

Clever writing makes breakup fun to watch
By Linda Rosborough
Entertainment Reporter

Anyone who has ever gone through a breakup — and is there a soul who hasn't? — knows it is a sad, bitter and lonely place to be.

It can also be incredibly funny, at least when it happens on stage the snappy dialogue is supplied by a pair of clever playwrights.

Anniversary, penned by Pulitzer Prize-winner Carol Shields and fellow Winnipeg Novelist David Williamson a decade ago, is a compact little gem of a play.

Departures and Arrivals
In 22 vignettes set in an airport lounge, Departures and Arrivals dramatizes how lives are heightened and enlarged when viewed within the frame of public spaces - airports, train stations, streets - so that we all become, in a sense, actors.




It was delightful to jump from watching melodramatic scenes with frenzied vaudeville energy to more subdued moments in which characters were deeply moving, sometimes sad and always painfully human. The decision to make use of such a wide emotional palette is to be commended; not only is it gutsy, but it also results in an engaging performance."

- Daniela Smith-Fernández, The Manitoban

| | |
| --- | --- |
| | Through the course of the play, we see silent actions and we hear conversations and interior monologues all of which tell us snippets of the lives of the passengers and crews who pass through. The tone varies from melodrama to touching reality, comic to passionate, surprisingly outspoken to sly innuendo." |

Playwright's Note
The play's structure (twenty-two vignettes) is intended to be open so that separate scenes can be omitted to meet time requirements or reshuffled to suit the demands of an individual director. The scenes are not distinguished in the text, and directors should feel free to adjust the stage directions and transitions between scenes.

The play is designed so that the many parts can be taken by six actors, three men and three women. Costumes are minimal: a hat, a coat, a prop and so forth. In addition to the six actors, there is an offstage public address (PA) voice, which announces flights and provides connections. (In the Black Hole production, this "voice" was an onstage presence, an actor/musician who also provided musical accompaniment on an electric piano.)

Although the play is not a musical, some form of musical connection (organ, piano, flute, etc.) helps to join the separate scenes.

It is my hope that all the elements of the play will contribute both to a cyclical sense of arrival and departure, and to the human appreciation of the public place-be it airport, train station or city street-as a venue for the theatrical sense that enlarges ordinary lives. It is also my hope that the play will realize a fusion of the real and the surreal, the naturalistic and the fantastic. This is a comedy with edges. - Carol Shields, from the original print version of Departures and Arrivals
Fashion, Power, Guilt and the Charity of Families
Carol Shields collaborates with her daughter, Catherine Shields, to explore the social and private worlds of the modern family in this funny, poignant and gently challenging play. When a department of government bureaucrats begins to receive widespread complaints of loneliness, it attempts to legislate a remedy by creating a "family unit" which appears, on the surface at least, to be a stereotypical suburban family. But it is not until the "family unit" looks inward and addresses its problems - including the unspoken secret which has haunted the parents for years - that they become a real family. A uniquely contemporary celebration of our oldest and most universal institution. - Back cover of original print version

| | |
| --- | --- |
| | Poignant and comic insights into family life." |

Playwrights' Note
Family is the most universal of our institutions, and the most mysterious and private in its workings. It seemed important to question the basic assumptions about the nuclear family by placing abstract commentary margin-to-margin with the ongoing life of a "real" family, and bringing music and drama edge-to-edge in order to open that question as far as it would allow.
- Carol Shields

I am fascinated by the power behind the drive we all share to find or create some kind of family (whatever form that may take: two people or a commune). Yet the desire to escape the fury of family is just as strong. What's the deal here? - Catherine Shields

These are the ideas that brought us to the beginning of our play. - From the original print version of Fashion, Power, Guilt and the Charity of Families

[ Buy the book | Top ]