Swann (published in the U.K. as Mary Swann)
1987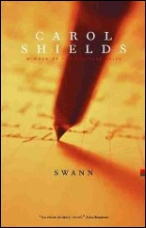 Swann is the story of four individuals who become entwined in the life of Mary Swann, a rural Canadian poet whose authentic and unique voice is discovered only hours before her husband hacks her to pieces.Who is Mary Swann? And how could she have produced these works of genius in almost complete isolation? Mysteriously, all traces of Swann's existence - her notebook, the first draft of her work, even her photograph - gradually vanish as the characters in this engrossing novel become caught up in their own concepts of who Mary Swann was.

This "literary mystery" was adapted to the screen in 1996, starring Miranda Richardson, Brenda Fricker, John Neville and Michael Ontkean.

Buy the Book
Click here to order.


| | |
| --- | --- |
| | One of the best novels I have read… deft, funny, poignant, surprising and beautifully shaped-in total command of itself and its language." |
| | ...a compelling work...exquisitely crafted..." |

Read an Excerpt
Click here to read excerpt.


Awards
Winner Arthur Ellis First Mystery Novel Award 1988
Shortlisted Governor General's Award 1988

Gently satirical… [Carol Shields] has a compassion for her characters that can make you ache for them."



Well-drawn characters, expert writing, and silky malice are combined in an exceptionally satisfying work of fiction"




A spicily witty tale of literary malarkey

"

- The Sunday Times (U.K.)

Reviews
Although best known for The Stone Diaries, which won both the Pulitzer Prize and the Governor General's Award, Carol Shields has anointed Swann as her favourite offspring. Swann, a literary mystery that won the Arthur Ellis Award for best Canadian mystery, is among Shields's most eccentric works. It revolves around the papers of a fictional Canadian poet named Mary Swann, the stifled, uneducated, and almost friendless wife of a violent, poverty-stricken farmer. Just before her murder at the hands of her husband, Swann had delivered a paper bag containing her scraps of poetry to Frederic Cruzzi, the editor of a Kingston small press. Swann's book is initially forgotten, until Sarah Maloney, a young American feminist academic, discovers it. The novel itself begins after Swann has gained a small but growing reputation as a sort of northern Emily Dickinson, as her various readers prepare for an academic symposium in her honour. The bulk of Swann is divided into four sections, one devoted to each of the novel's main characters, all of whom are guilty of distorting or even destroying Swann's work and character to suit their own purposes. Along with Sarah and Frederic, the reader meets Morton Jimroy, Swann's rather pathetic and repellent biographer, and Rose Hindmarch, the middle-aged spinster who was Swann's only lasting human contact outside of her marriage. Swann is, in a sense, a writer's revenge novel, gently satirizing everyone who lives through the literary establishment, from academics to publishers, rare book collectors, and even common readers. Nevertheless, this compulsively readable book should delight anyone with a weak spot for fine literary mischief.
- Review by Jack Illingworth, Amazon.ca

| | |
| --- | --- |
| | A brilliant literary mystery...a delightful send-up of the scholarly sideshow that surrounds a work of art." |

Mary Swann, a fictitious poet, was brutally murdered by her husband; her poems were published posthumously. Some years later, as this novel opens, a group of scholars meets for a Swann Symposium. We follow four of the participants as they prepare for the meeting: Sarah Maloney, brilliant young feminist scholar; Morton Jimroy, literary biographer; Rose Hindmarch, librarian; and Frederic Cruzzi, small-town journalist and publisher. Each distorts a different aspect of the life and work of Mary Swann. This novel delightfully satirizes academia and the literary world, wryly exploring the notion of textual criticism. Shields is well known in Canada; Swann should make her better known in her native United States.
- Review by Mary Margaret Benson, Linfield Coll. Lib., McMinnville, Ore., Library Journal

| | |
| --- | --- |
| | Ingenious and inventive, strikingly evocative of place, of character, of the world of things, capable of both comedy and tenderness, and above all beautifully written." |

Viking has wisely decided not to publish this fascinating novel as a mystery, as it was designated in Canada, where it earned excellent reviews. While two (rather bland) mysteries animate the plot, the book's considerable impact is as a combination of psychological novel and satirical comedy of manners that wittily dissects the pretensions of academia. The titular Mary Swann was murdered on the very day she had shown her poems to a publisher who recognized her talent. Fifteen years after her death, a symposium is to take place; the story focuses on four people who will attend: a ferociously engagee feminist scholar who "rediscovered" Swann's poetry, a misanthropic biographer committed to writing about Swann, a silly spinster librarian in the tiny town near Swann's home and the gruff but kindly publisher who issued her works in a limited edition. Each commands a section of the narrative and, in cool, witty prose, Shields artfully conveys their personalities, as well as the distortions each has made, for their own reasons, in Swann's life and work. (Meanwhile, however, a thief is systematically stealing every extant copy of her book.) In the end, Swann's life remains unknowable, though by now completely altered by her devotees' speculation and obfuscation. Adroitly illuminating the chasm between appearance and reality, this intelligent, provocative novel is sure to pique readers' interest in Shields's earlier work, Various Miracles, just reissued by Penguin.
- Publishers Weekly

| | |
| --- | --- |
| | A teasing literary mystery and a sly parable of human egotism." |
[ Buy this book | Top ]