Larry's Party: a musical based on the novel by Carol Shields
2001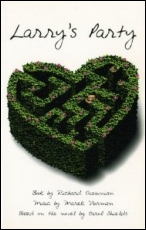 Book and Lyrics by Richard Ouzounian, Music by Marek Norman.
Commissioned by the Canadian Stage Company of Toronto, starring Tony Award winner Brent Carver and directed by internationally-known Director/Designer Robin Phillips, Larry's Party premiered and broke box office records in Toronto before equally successful runs at the National Arts Centre in Ottawa and the Manitoba Theatre Center in Winnipeg. Larry's Party was nominated for a Dora Award for Best New Musical.
Included in Larry's Party is an introduction by Richard Ouzounian, the entire play's script and four original songs from the musical.


Buy the Book
Click here to order.
| | |
| --- | --- |
| | The bestselling novel has been transformed into a musical which equals the charm, humour and compassion found in the original by award winning novelist Carol Shields. The story of Larry Weller, the master mazemaker, is a rich source for Ouzounian's thoughtful lyrics and Norman's moving score. Nine performers play the wide range of characters who Larry meets on his unique journey through life. The libretto features music for four of the songs featured in the show. Larry's Party moves audiences to laughter and tears while experiencing a journey common to many." |

Production Information
For those who may be interested in producing Larry's Party, please contact
Richard Ouzounian regarding rights and reading scripts.
568 Logan Avenue,
Toronto, ON
M4K 3B7


Email:




Telephone: 416-737-0599





| | |
| --- | --- |
| | The genius of Carol Shields is that she was able to find the biggest truths in the smallest details." |




Introduction: Notes on Larry's Party
"Where you start from, there you end," Carol Shields tells us on the final page of Larry's Party. But where did the musical version of her book actually start? With a phone call, of course, like most theatrical projects.




The play opens where the novel ends - at a party at Larry's place - giving him the opportunity to look back and examine the people and circumstances that brought him to where he is. The fixtures in his life consist of a mother absorbed in grief and remembering, a father who is "good and solid and quiet and true," an upwardly mobile first wife, a controlling, ambitious second wife, friends, associates, and a sister who acts as a frank buffer between them all. Happenstance is a key factor here, placing Larry in a maze of his own, where at varying times he is lost, happy, confused, sick, and sad. No matter what his state though, Larry heroically continues on, and in doing so, debunks the myth of the ordinary."

- Elizabeth Mitchell, Quill and Quire

[ Buy the book | Top ]